Best Ribs in Ukee
2017 Chowder Chow down Champions!
Come to the Floathouse after your West Coast adventure! Great views, cozy atmosphere, and great food!
Join us for our local favorite Floathouse Ribs or our local 2017 Award Winning Seafood Chowder - Right on the Water!
Here at the Floathouse Patio & Grill, we take pride in making all of our recipes, sauces and dressings from scratch and always utilize the freshest ingredients possible. On behalf of our staff, we hope you enjoy the West Coast and your dining experience at the Floathouse.
Phone
(250)-726-2411
Location
Small Craft Harbour
200 Hemlock St
Ucluelet, BC, V0R 3A0
Hours
Tues through Sun
12 pm - 9pm
Closed Mon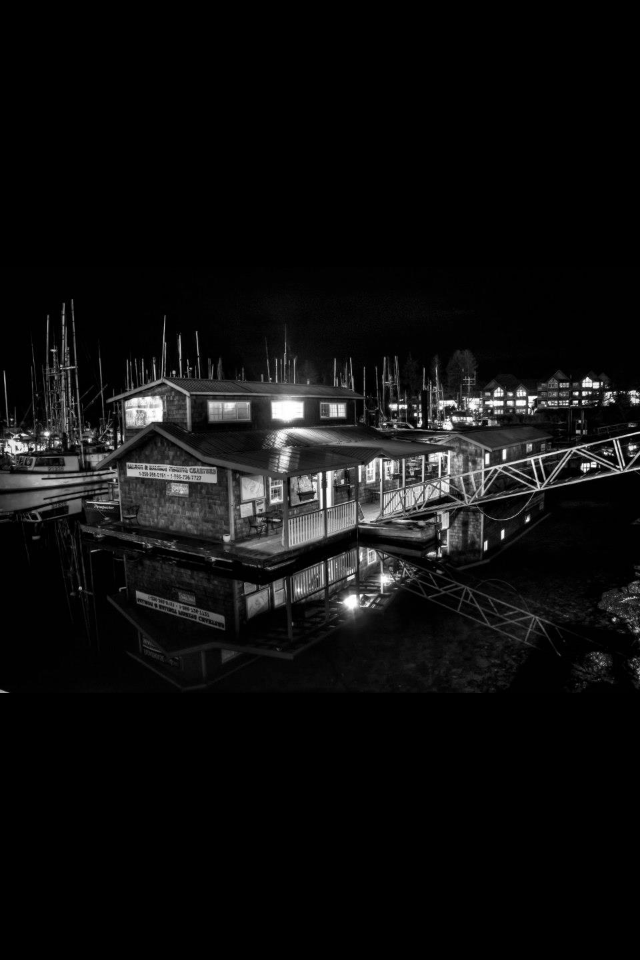 $

9 Cup /

$

13 Bowl
Chowder
2017 Pacific Rim Whale Festival 'Chowder Chow Down' Champions
$

14.5
1 lb of Chicken Wings
Choice of our house-made thai peanut sauce, hot sauce, BBQ sauce, teriyaki sauce, blackened spice, salt 'n' pepper, or lemon pepper
Add: House-made ranch or blue cheese dip $0.5
$

14.5
Pan Seared Prawns (10) GF*
Choice of white wine garlic or blackened spice, served with garlic toast
$

13.5
Smoked Cheddar Cheese Sticks (5)
Panko-breaded cheese sticks served with our tangy tomato sauce
$

13.5
Tacos (2)
Ling cod with wasabi aioli, Thai chicken or Italian sausage
$

13.5
Calamari
Served with our tangy tomato sauce
$

11.5
Dickles (6)
Deep-fried beer-battered pickles served with chipotle sour cream dip
$

16.5
Crab Cakes (3)
Served with our tomato basil aioli
$

12
Garden Salad
Choice of our house ranch, blue cheese, or lemon dill balsamic
$

14.5
Caesar Salad
Old school caesar with deep-fried capers and croutons
$

17.5
Warm Goat Cheese Salad
Artisan greens with our warm breaded citrus-herb goat cheese ball and lemon dill balsamic dressing, topped with candied walnuts
$

13
Peanut Thai Noodle Salad GF*
Vermicelli noodles tossed in our spicy peanut sauce, served with arugula with peppers, cucumber, carrot and candied walnuts
$

21
Thai Chicken Caesar Salad
Our classic Caesar topped with vermicelli noodles and warm thai chicken
$

6.5
Salad Add-ons
Grilled chicken or pan-seared prawns, snapper (lemon dill or blackened spice), grilled Portobello mushroom or candied smoked salmon
Comes with your choice of (1):
Caesar salad, artisan greens, potato wedges, homemade coleslaw or corn
$

15
House Burger
1/2 lb seasoned ground beef & pork patty with one complimentary topping
$

19
Anchor Burger
Our house burger topped with BBQ sauce, cheddar, ham, capicolli, and red onion relish
$

17
Lamb Burger
Roasted garlic and rosemary seasoned lamb topped with our tzatziki sauce and brie cheese
$

17
Jalapeno Blue
Choice of beef or chicken patty topped with blue cheese, roasted jalapenos, and our buffalo sauce
$

15.5
Veggie Burger GF*
Portobello, black bean, and broccoli house-made patty with your choice of guacamole or mango salsa
$

17
Chicken Club Burger GF*
Grilled or crispy chicken with cheddar and bacon
$

17
Tropical Chicken Mango Burger
Grilled chicken topped with brie and mango salsa
$

17
Chicken Guacamole Burger
Grilled chicken topped with guacamole and Havarti
Italian Sausage Baguette
Italian sausage, tangy tomato sauce, smoked cacioavallo cheese and crispy fried onion
$

16
Chicken Caesar Wrap
Old school caesar wrapped up with your choice of grilled, crispy, and/or buffalo chicken sauce
$

1.5
Burger Toppings
Cheddar, Havarti, Brie, Blue cheese or Red Onion Relish
$

2
Burger Toppings
Bacon, Roasted Jalapeno, Portobello Mushroom, Guacamole, Mango Salsa
$

3
Burger Toppings
Gluten Free Bun
Comes with your choice of (1):
Caesar salad, artisan greens, potato wedges, homemade coleslaw or corn
Thin shaved in house slow roasted beef brisket, sautéed onions, mushrooms, yellow peppers, horseradish, aioli served on a grilled baguette covered with homemade gravy & Havarti cheese
$

24.5
AAA 8oz Sirloin Steak GF*
Served with garlic toast
$

21
Lemon Dill Rockfish
Simmered in our own creamy lemon dill sauce
$

21.5
Blackened Rockfish
Pan seared, topped with mango salsa
$

17.5 half /

$

30.5 full
Floathouse Ribs GF* Local Favorite!
$

24
Chicken and Ribs GF*
Grilled BBQ chicken and 1/2 rack of ribs
$

14.5 1pc /

$

18.5 2pc
Fish & Chips
$

17
Classic Carbonara
Fettuccini Alfredo with bacon, green onion and parmesan
$

19
Candied Smoked Salmon
Fettuccini, house-candied smoked salmon in a lemon/dill cream sauce, topped with deep-fried capers and red onion
$

16
Penne Primavera
Seasonal vegetables with penne noodles served in our tangy tomato sauce
Cajun chicken, Italian sausage, prawns, peppers and onions in a spicy tomato sauce
$

6.5
Additional Toppings
Grilled chicken or pan seared prawns, snapper (lemon dill or blackened spice), grilled Portobello mushroom or candied smoked salmon
$

9.5
Our Lemon/Lime Cheesecake
Topped with four-berry compote
$

9
Chocolate Mousse
Topped with whipped cream and dark chocolate shavings
$

6.75
Floathouse Hard Lemonade
$

6.75
Southeasterly Breeze
$

22.5
International Caesar
$

6.75
Lone Tree Apple, Cranapple and Apple Ginger
$

6.75
Hey Y'all Peach Iced Tea
$

6.75
Beve Sparkling Grapefruit
$

6.75
Ocean Blu Pomello Nectar (sugar free)
Pinot Gris or Cabernet / Merlot 6oz $9
Hestler Creek Winery
Pinot Gris or Cabernet / Merlot 6oz $9
9oz $12.5
1/2 litre $20.25
full litre $38
Cab / Sav or Chardonnay 6oz $7
Wine O'Clock
Cab / Sav or Chardonnay 6oz $7
9oz $9.5
1/2 litre $16.5
full litre $31
$

6
Phillips Brewery, Blue Buck Ale,
On Tap 14oz Sleeve
20oz Pint $8.25
60oz Pitcher $19.75
$

6.75
Whistler Bear Paw Honey Lager
Riot Brewery - Cowichan Valley BC
$

6.75
*Life Partners Pale Ale
$

6.75
*Black Current Blonde Ale
$

6.75
*Broken Island Hazy IPA